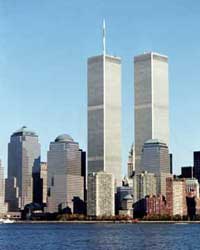 Jesus said to him [Thomas], "I am the way, the truth, and the life. No one comes to the Father except through Me.  John 14:6

as people who had packed into what seemed the only way out, fall to their deaths.

You didn't know that the passage you have taken even existed.  The architect's son knew every part of the building.  His knowledge was your salvation.  The narrow way is now leading down.  You pass the 70th floor, and in time you find yourself out of the death trap.

Here's the analogy: We are living in a world that has sinful pleasures on every side.  Nothing else really matters but money and its promise of pleasure.  But this world has been rocked by death itself.  Its jaws are swallowing humanity.  There seems to be no answer to this unspeakable horror.  But in the blackness there is a calm voice.  It says, "Follow Me.  I am the way, the truth, and the life."  It is the voice of One who is so despised by a sin-loving world that His name is used as a cuss word.  While others try and find their own way out, His Word warns, "There is a way that seems right to man, but the end thereof is the way of death."  He knows that the cables of self-righteousness, of good works, and of dead "religion will break under the strain of Judgment Day, taking multitudes down to death and hell. 

To follow Jesus simply takes a child-like faith.  It means placing your hand in His hand and letting Him guide you out of the darkness.  He said, "I am the light of the world: he that follows me shall not walk in darkness, but shall have the light of life."  Sometimes it will be like going uphill, when everything within you wants to go down.  The gravitational pull of a sinful world, your sin-loving flesh, and the temptations of the devil will be almost unbearable.  Almost.  The world will laugh at the narrow path you have taken to follow the Savior. 

But where else can you go?  The Apostle Peter once said to Jesus, "Lord, to whom shall we go? You have the words of eternal life."  The prophet Isaiah said that by His knowledge God's servant would justify many.  He is more than the Architect's Son.  He is the Creator in human form.

From the book, Nostradamus: Attack on America & more Amazing Prophecies by Ray Comfort

You are a worker on the 106th floor of the World Trade Center.  You love your job. It's prestigious to say that you work in the Trade Center.  The whole world seems to envy you.  Everything in your office is high tech.  The view of New York is breath- taking.  High building-high wages.  You love life with a passion.  Everyone in your office is of the same mind.  You all want to make money.  You discovered early in life that money is the key to open almost any door.  It promises a secure future.  Each person in the place of work is of the same mind; everyone that is, except one geek.  You don't know why he is even part of the staff.  It's rumored that the only reason he has a job is because he is the son of the building's architect.  What a joke! 

He is so deluded that he thinks his daddy designed the World Trade Center.  You really don't like him. He's a walking wet blanket.  He never laughs at adult jokes or looks at lusty pictures.  The guy is a dork.  His idea of fun is to study books on architecture.  He has as much in common with the rest of the staff as a pig has with a porcupine.  No, you don't like him at all.

It's September 11, 2001 just after 8:40a.m.  What's-his-face is sitting in his office as usual.  Surprise!  He's studying building structure.  The rest of the staff is standing around the coffee machine.  Once again, the geek is the subject of an office joke.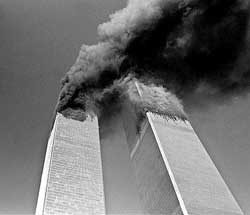 Suddenly, there is a very loud roar of a plane's engine.  It is so close.  Too close! You swing around to see a sight that horrifies you.  A huge passenger jet is heading for your building!  Within an instant there is a sickening explosion and a massive thud that knocks you off your terrified feet.  The plane hits somewhere below the 102nd floor.  In an instant there is unbelievable heat.   Black smoke fills the room.  Smoke so thick you cannot see an inch in front of you!  Panic grips your heart.  You are going to die!

Images of your loved ones flash into your mind.  People are screaming in terror.  Double-glazed "unbreakable" windows have burst out on one side of the office allowing a breeze to clear the smoke for a second.  You see a sight that utterly horrifies you.  People are on fire.  Others are leaping out of the windows to their deaths.

Suddenly it is black with smoke once again.  You can't see or breathe.  In the confusion you hear a voice.  It has no panic.  It simply says, "Follow me."  It's the geek.  He calmly says, "I know the way out."  He calls "you must follow me.  You have no other hope.  We must go up before we go down.  Don't go near the elevators.  Follow me."  Your mind races…"How could he know the way?" You think for a moment, "I have nothing to lose.  I'm going to die."   You reach out towards the voice.

His hand grips yours and guides you in his direction.  You have no idea where he is taking you; all you know is that you are going up, not down.  Everything within you says, "no, not up; down!"  It is still dark, but you have found that you can now breathe, and so you trust him.  You really don't have any choice. Another sickening sound suddenly fills the air.  It is the snapping of elevator cables and the unforgettable echo of human

screams in the elevator shaft,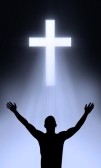 © 2004-12 www.areyougood.us

Preach the word! Be ready in season and out of season. Convince, rebuke, exhort, with all longsuffering and teaching.  1 Timothy 4:2

The word of God is living and powerful, and sharper than any two-edged sword, piercing even to the division of soul and spirit,

and of joints and marrow, and is a discerner of the thoughts and intents of the heart. Hebrews 4:12