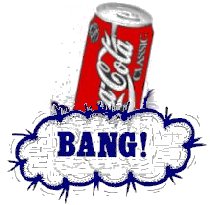 In the fear of the LORD there is strong confidence, And His children will have a place of refuge.  Proverbs 14:26

The Atheist Test     (page 1 of 5)

Adapted from God Doesn't Believe in Atheists by Ray Comfort (
Living Waters
)
The theory of evolution of the Coca Cola can

Billions of years ago, a big bang produced a large rock. As the rock cooled, sweet brown liquid formed on its surface. As time passed, aluminum formed itself into a can, a lid, and a tab. Millions of years later, red and white paint fell from the sky, and formed itself into the words "Coca Cola 12 fluid ounces."

Of course, my theory is an insult to your intellect, because you know that if the Coca Cola can is made, there must be a maker. If it is designed, there must be a designer. The alternative, that it happened by chance or accident, is to move into an intellectual free zone.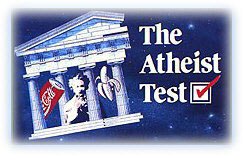 Note that the banana:

1. Is shaped for human hand

2. Has non-slip surface

3. Has outward indicators of inward content:

    Green-too early,

    Yellow-just right,

    Black-too late.

4. Has a tab for removal of wrapper

5. Is perforated on wrapper

6. Bio-degradable wrapper

7. Is shaped for human mouth

8. Has a point at top for ease of entry

9. Is pleasing to taste buds

10. Is curved towards the face to make eating process easy

To say that the banana happened by accident is even more unintelligent than to say that no one designed the Coca Cola can.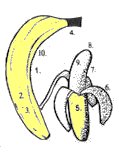 The banana -- the atheist's nightmare.

TEST ONE

The person who thinks the Coca Cola can had no designer is:

Note: This test is for personal reflection only as your answers are not recorded

© 2004-12 www.areyougood.us

Preach the word! Be ready in season and out of season. Convince, rebuke, exhort, with all longsuffering and teaching.  1 Timothy 4:2

The word of God is living and powerful, and sharper than any two-edged sword, piercing even to the division of soul and spirit,

and of joints and marrow, and is a discerner of the thoughts and intents of the heart. Hebrews 4:12